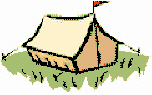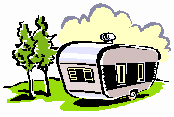 Quality service since 1987...........................................................................custom canvas covers
Max Dahl's
CANVAS CRAFT
"Your source for real canvas products."
WELCOME! If you are looking for the services of a first-rate canvas shop, you have come to the right place. In addition to canvas fabrication done in my own shop here in northern Minnesota, I also am a dealer for several top-notch canvas manufacturers. Daily UPS shipping. Some of the products and services I offer are listed below.
---
Some of the things I do:
c
I will build your custom protective canvas cover or tarp... to your specs and for your specific need.
c
Great custom boat covers and tops. (Usually need your boat at my shop for the larger boats - for canoes, kayaks, and small trailerable boats visit my canoe and kayak cover page below) We are centrally located in the northern lake region of Minnesota, and boat canvas is one of my specialties. We are especially proud of our custom travel covers for boats. I made this custom cover for a new Crestliner fishing boat and the top below for a couple of my local customers.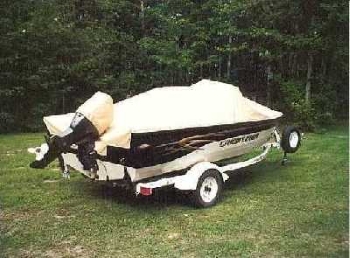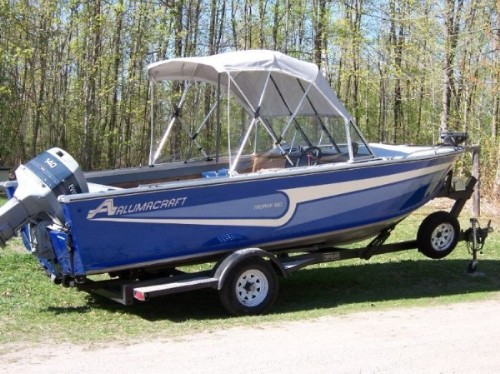 c
All-weather custom sized canoe and kayak covers. If you've been wondering where to buy a good canoe or kayak cover, look no further. Protect your valuable investment. I will make a custom sized cover of premium marine grade polyester fabric to fit any standard canoe or kayak - usually just need a few measurements for these. The storage cover for the 17' canoe pictured below sells for about $100! Lasts for years!
I also make travel and storage covers for trailerable canoes and small boats such as the Gheenoe, Grumman Sport Boat, Sportspal, square stern canoes, and other small trailerable boats. Click on the link below to view photos of covers for small boats.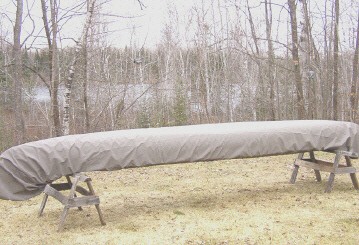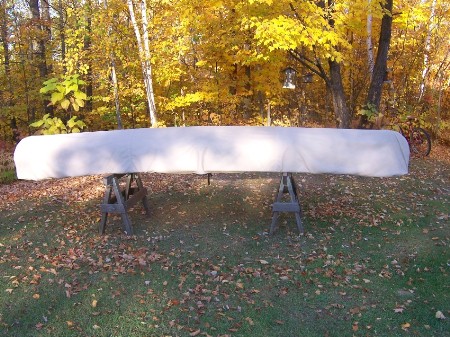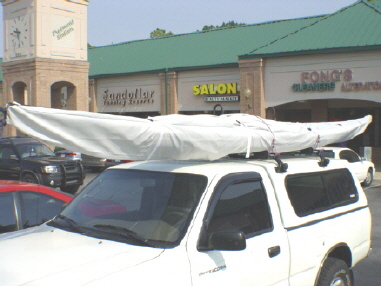 "Hey Max, I got the kayak cover and it looks GREAT! The fit could not be any better. I have it loaded on my truck and will get you a picture or two later this afternoon. I'll get good enough pics so that you can use them for advertising. I would think these would be a hot ebay item. Thanks so much for your work and I hope we can do some more business in the future." Regards, Kevin Cunningham
Click here for Canoe & kayak cover page
c
Covers, covers, covers... I sell a complete line of ready-fit and custom car covers, atv covers, RV covers, motorcycle covers, personal watercraft covers, and truck covers - in several different fabrics - by the nation's largest cover manufacturer. Very good quality and great prices!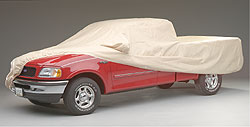 Click here for more info on custom and ready-made vehicle covers
c
Our winterfront and bugscreen snap on (your choice of metal snaps or self-adhesive velcro for fasteners) over the radiator grill of trucks, vans, and buses. Many patterns on hand to fit older 70's, 80's' and 90's model American-made pickup trucks, vans, and SUV's. Heavy-duty reinforced vinyl and fiberglass bugscreen. The winterfront comes with a zipper in the center - adjustable for airflow control. Send me your old truck winter front, or bug screen and I will make a replacement. Or fax us a drawing with measurements.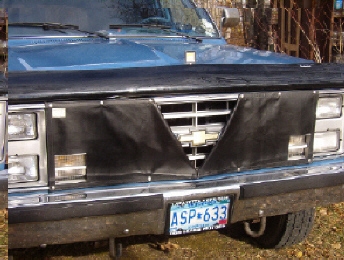 Chevy Suburban with winterfront
c
Custom articles for trucks & fleet maintenance...radiator bug screens, winterfronts, canvas covers, document holders, divider curtains, etc.
c
Tired of the cheap woven poly tarps wearing out? I make tarps using extra heavy duty 18 ounce per square yard vinyl-coated polyester fabric truck tarp material. If you need a good, heavy-duty tarp, this is it. Double hems, several colors available.
c
Natural canvas and fine synthetic marine and outdoor fabrics by the yard. Sunbrella awning fabric.
c
Free estimates.
c
Nationwide UPS shipping--to your door or place of business.

"WATCHDOGS FOR QUALITY"
(page down)
Contact Info: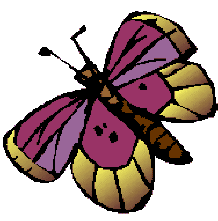 Contact: Max Dahl
Phone: (218) 897-5000
Fax: (218) 897-5163
E-mail: canvas@paulbunyan.net
Address:
Max Dahl's Canvas Craft
11003 Town Road 300
Mizpah, MN 56660
"In the heart of lake country, near historic logging boom town Gemmell, Minnesota"
WE APPRECIATE YOUR BUSINESS
Hours of operation: Monday-Friday 8 a.m. to 5 p.m.


We accept Mastercard, Visa, or Paypal
Links:
click to visit
Upper Red Lake Area Association - Gateway to world class fishing
Matt Breuer's Northcountry Guiding Service
The Woodshop - Jack Loganbill's popular woodworking site

QUESTIONS-SUGGESTIONS? e-mail us:canvas@paulbunyan.net